In 2002, while trying to find a quality & affordable web designer and software development team for our start-up company, we found the process very similar to finding a trustworthy car mechanic. There are so many choices out there and it's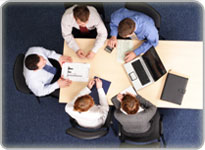 often difficult to find out how good of a job they'll do until after they've already done the work.
With your web or software project the stakes are usually much higher; you have to get it right the first time or it could cost you a lot more than a car repair and even more down the road. We found this out the hard way when our business began to grow and we discovered we'd have to rebuild our technology from the ground up to achieve our goals. It wasn't built right the first time around and we just didn't know any better.
After this experience we decided to handpick a team of independent web designers and software developers to build our technology in house, on our own terms, and under our guidance.  Once our own project was nearing completion, we became aware we'd assembled a website design and software development team that had developed into an efficient, hardworking, and skilled group.  Realizing we had something special we decided to outsource our team to work for other businesses.
Soon after, our web design and software development business began to grow organically by word of mouth from colleagues and past clients.  As this area of our business grew, it became apparent that we needed to spin-off a completely new business for our website design and software development team.  This company is ITegrity.